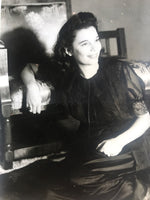 Our Story
Lavon Suker, our grandmother, was born in 1928.
In the late 80's she refined an English Toffee
recipe that she came across in the newspaper,
and it became her signature gift to give at
Christmas time. Her list of friends and family to
receive toffee became so long, that she began to
make 50 pounds at the end of every year. She
then taught us three sisters her delicious and
precise recipe. That is how 3 Sisters' Toffee
came to life, and we hope to keep it alive—in
memory of our amazing grandmother, Lavon.
Order Toffee